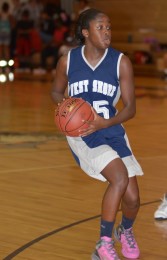 Dean Stewart
The Lady Wildcats will kick off their season on Nov.13 with a game at Cocoa Beach, their district rivals. Last season the team secured the Class 4A District 8 championship in a close game of 36-32, ending the Minutemen's two year reign as district champs.
The matchup will be a homecoming of sorts for new varsity Head Coach George Derr, who has joined the Lady Wildcats after previously coaching for Florida Air Academy. With a team built around speed and defense, Derr's coaching philosophy puts an emphasis on each member playing a special role in contributing to the team.
"We are a veteran group, who are very basketball savvy and take well to coaching direction while at the same time speak up to make suggestions and point out potential difficulties," Derr said. "I would be lying if I said that anything less than an opportunity to play at the state level is what I am setting as the expectation for the season."
With four out of five starters returning, the team looks to build on last year's success as district champions.
"I think the team has been building throughout the years, we've had a lot of great players come in," said sophomore Gillian Foster, a varsity third-year veteran. "I think we're going to do very well this season and make it to district finals again."
The junior varsity team will play at 5:30 p.m. at the Cocoa Beach gym, the varsity team following at 7 p.m. The Lady Wildcats will continue to play the next day, Nov.14, at the West Shore gym against Space Coast.