'JohnBo' more than just a soccer star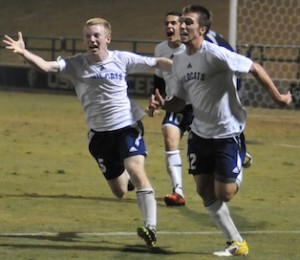 Receiving the ball from his fellow teammate, John Bocinksy gave it his all, shooting the state winning goal in one swift step towards a bright future. When joining the school's soccer team freshman year, Bocinsky, or as his teammates call him, "JohnBo," had no idea that he would lead the team from two wins in one season to a state victory in just four years.
It is obvious to everyone that soccer is Bocinsky's biggest passion–always has been and always will be.
"I have been playing soccer since the age of 3, and I have put thousands of hours into the sport that it has grown to be a passion," the senior said.
While playing the game he loves, "JohnBo" is strictly focused on soccer and only soccer. His coach, John Krehbiel, says that Bocinsky rarely has a smile on his face before or during the game.
"I don't have any worries or anxieties because I'm only focused on playing the game," Bocinsky said. "When I'm on the field, homework and stress sit on the sidelines, and I worry about them later."
According to Krehbiel, Bocinsky is in an intense state during soccer matches.
"In close games, JohnBo steps up his game when necessary, and you'll see him charging around the field, like he is on a mission to make something good happen and to motivate the rest of the team by his example of fighting for the ball and working harder than his opponents," Krehbiel said.
Being on the school soccer team has taught Bocinsky about being a leader and trying to help push his improving team towards a winning future.
"John has more soccer experience, especially against the highest quality teams, than anyone else on them team, so he often acts as another assistant coach, giving his ideas of what will work best for our team in certain situations," Krehbiel said.
When interviewed after winning the state championship in Februaruy, John said "We had God on our side." Throughout his life, Bocinsky never forgets the person he admires most: Jesus Christ.
"There have been a lot of people who have done incredible things and have accomplished so much, but everything is made worthwhile because of what Jesus did," Bocinsky said. "I try my best to emulate him and I struggle sometimes, but I'm amazed at what he has done for me. I try to use my talents to glorify him."
Bocinsky has certainly used his talents well. Not only did he help win the state championship for West Shore, but his success in club teams cannot be overlooked.
"A major accomplishment for me would be finishing fifth in the nation with my club team over the summer," Bocinsky said. "Ten thousand teams started out in the tournament and my team won the State Cup and the Southern Regional Finals. When we went to Nationals we placed fifth which was disappointing, but later in the year we were ranked number one in the country after winning certain tournaments and beating certain teams."
Of course, there have been some struggles along the way.
"I can still remember when I had tendinitis in my right knee in second grade. I woke up one day and couldn't bend my knee without any excruciating pain and it was a nagging injury that lasted for quite a while. Whenever I would play too much or overstrain, it would come back and sit me out for a couple weeks. We still have the three foot crutches I used to take to school in our attic."
As for his plans for the future, it is no surprise that he wants to "never stop playing." However, education impacts on his college decisions too.
"I am trying to get on to a college team at the moment but if that doesn't work out then I'll play club soccer in college," he said. "I don't want to go to college just to play soccer so the team and the school have to be a good fit for me. If it doesn't work out that I get on a team at a college where I want to go, that's all right."
Bocinsky's life is not solely soccer, however. He describes himself as hardworking and tries to be nice.
"I don't think I'm that funny, but I can be pretty goofy," he said.
Krehbiel describes Bocinsky as smart, humble, and always working to get better.
"Only at practices and after games does his big smile come out." Krehbiel said.
All this hype about being accepted as a person can be stressful though. Bocinsky would rather "try not to think about it too much," and just enjoy life.
"There's been a lot of happy moments in my life to pick out one when I was the happiest is hard," Bocinsky said. "I think a truly happy time in my life was when I lived in Costa Rica with my family when I was in first grade. To me it was a never ending vacation. I was homeschooled in the morning and went to the local public school two days a week. Then after school I would surf or play soccer with the other Costa Ricans. It was an awesome adventure every day."
Certainly, family plays an important role in Bocinsky's life. With a younger brother, James, also on the soccer team, they share a lot of special time together playing the sport they both love.
"I really enjoy playing soccer with my brother and since we're so close in age we're really good friends off the field too. We are pretty much the same person so we get along well," the senior said.
"My parents have sacrificed so much for me and my soccer aspirations. Ever since I was in fifth grade they've been driving me all over the state to practice and games. I can't thank them enough for all of the hours in the car they've given up for me."
Overall, "JohnBo" has had the experience of a life-time watching his team go from only two wins in one season to being the Florida state champions. What a way to spend your high school years.
"The things I value most in my life are my faith, talents, and well-being," John Bocinsky said. "It's really important for me to thank God for how he has blessed me. I think there are a lot of people in this world who have it rough so I'm grateful for the life I have."
By Valerie Ferretti