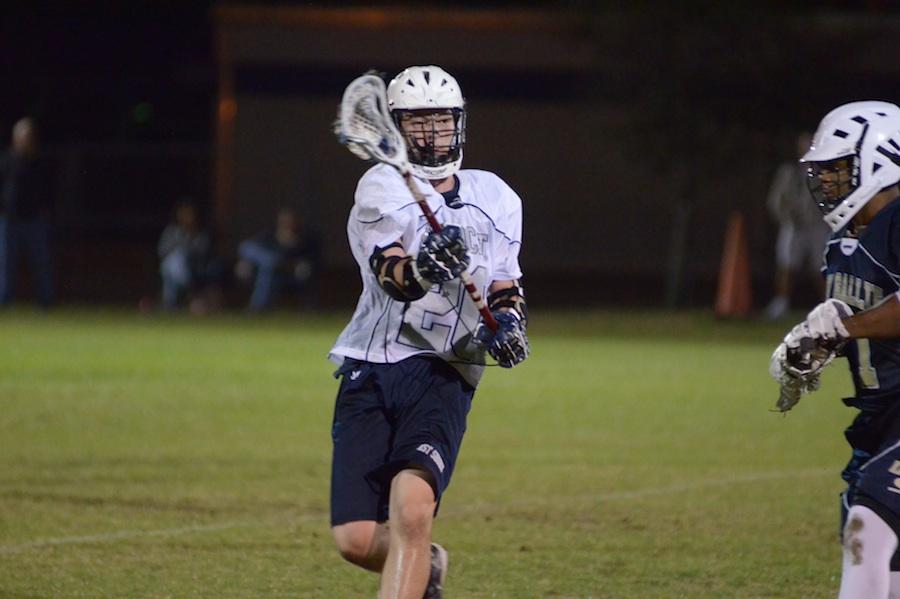 Dean Stewart
Led by strong play by goalie Jack Moore and the team's young defensive unit, the West Shore boys' lacrosse team stunned the Sebastian River High School Sharks 12-9 on Monday and followed that up with 6-4 victory over the Rockledge Raiders.
"It has been a long time since I've felt this good about a win in any sport," junior Jake Dimond said. "In the previous seasons, winning any games was considered an immense achievement for the team, and now we just won the first game of our season against a big district rival and have started-off undefeated."
Moore tallied 14 saves in the win over Rockledge, a career high, and stifled a Raider offense that looked baffled all night.
"The whole game I was just trying to focus and be ready in case they went on a fast-break," he said. "It took a while for our offense to get going, but we were able to hold them off and then the offense got the job done."
Sophomore Noah Murphy, who led the Wildcats tallying three goals, a hat-trick, in the team's first match, attributed the victories to the "hard work that the team has put-in."
"Every player was contributing and doing their part on the field," Murphy said. "The hard work that the team has put-in over the off-season really showed last night. Being that this was a district game and the first game of the regular season, coming-out with a win is huge for the team. I'm really looking forward to how we perform throughout the rest of the season. I see us having a lot of success this year; our win last night was just a great start."
Junior Chris Melchiori has tallied four goals over the two games, and is tied with Murphy for the season lead in goals.
The boys are scheduled to next host Merritt Island High School on Thursday at 7 p.m.