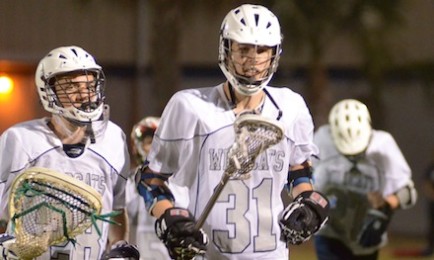 Not much went right for the boys' lacrosse on Tuesday night, as they were unable to find the back of the net even once, falling to the Holy Trinity Tigers 21-0.
Without many positive aspects from Tuesday to build on, the Wildcats hope to first fix morale and attitude issues before progressing to lacrosse skills.
"We didn't bring the right attitude last night," junior attackman Ryan Bellone said. "A bunch of players just quit midgame. They just knew it was Holy Trinity who was really talented, and no one brought their A-game."
Among the issues Tuesday night was the lack of defensive effort, and a blatant apathy towards the seemingly insurmountable deficit.
"It's the wrong mindset," junior goalie Jack Moore said. "Defensive players actually came up to me and said 'We're done,' to me, that's unacceptable."
Despite the disappointing loss, the boys retain hope, especially going into Wednesday night's final home game against the Melbourne Bulldogs, a game the Wildcats believe is "very winnable."
"As long as we improve our defense, and our passing and catching tonight we'll be fine," sophomore Jake Sadowski said. "Right now, we're not a family, we need to gel as a team."
The varsity boys' game against Melbourne begins at 7 p.m. with the girls' game immediately preceding at 5:30 p.m.