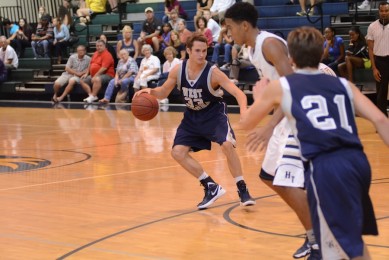 Dean Stewart
Falling behind 29-4 to start the game, the boys' varsity basketball team was shellacked by the Holy Trinity Episcopal Tigers, the top team in the district and among the top in the state, losing 94-23 and dropping their first game of the season.
The Cats were led by freshman Keegan Schauman who had eight points, and junior Chris Mikulas who had four, but the effort was futile, as the Tigers missed only three shots in the first half and had scored 60 points by the intermission.
"Our effort wasn't where it needed to be, and our execution definitely wasn't either," Mikulas said. "This kind of loss is rough, and it shouldn't have been by that many points, but they're likely to dominate this entire district.
Senior captain Sam Lack attributed their poor performance to their lack of execution on either end of the floor as well as their lack of experience.
"The team we played is a team that has college level athletes and that is something we don't necessarily have," Lack said. "They were smarter and quicker and when you are a young team this is something that you can expect, but hope to avoid."
Lack also noted that while the loss was fairly emphatic, it is not necessarily a sign of things to come.
"We had too many turnovers, we had no rebounding, and we had very little defense," Lack said. "There were some positive things to build off of for this game, but there was also a lot of negative things that we need improve on.  This is the type of game that you probably won't win but you certainly hope to compete more in. It's early in the year, we'll bounce back."
The boys hope to recover and get back to .500 when they host Astronaut High School in their home opener.  The game will be played Wednesday and varsity play starts at 7:00 p.m.