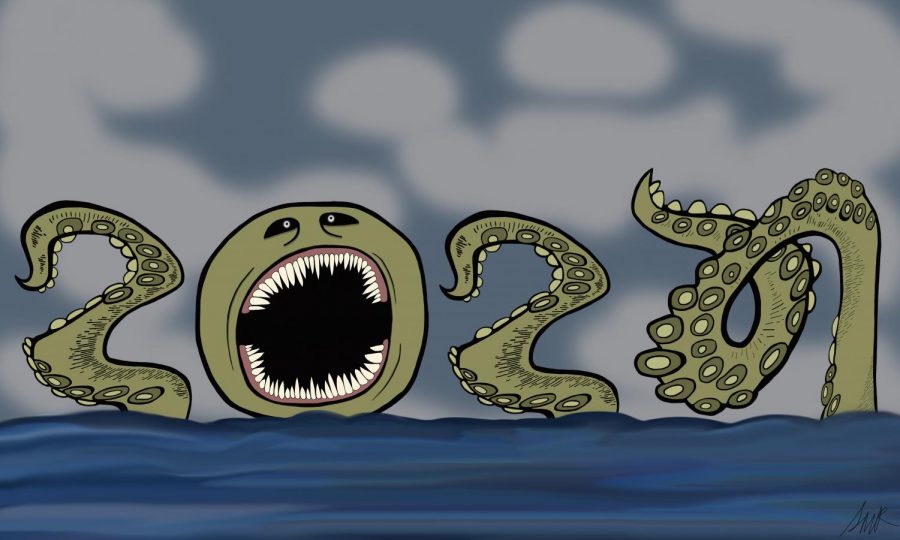 Digital Illustration / Sami Ramadan
Nobody wanted to repeat the abrupt end to what would have been a normal, fun-filled senior year for the Class of 2020. This school year, teachers, staff and students tiptoed around the fear that the Class of 2021's final year of high school would look equally as grim as its predecessor – if not more.
Junior year is cast as the stressor year – it's the second-to-last sprint when classes seem more demanding and college looms closer. Senior year is cast as the fun year. Grad Bash, Prom, Powderpuff, Wildcat Challenge, painting parking spots, Senior Breakfast, senior prank and – of course – graduation itself are among the most cherished senior year traditions. Last school year, the senior class had a 50/50 senior year experience, with the final stretch of high school being torn out of seniors' hands when the pandemic took hold. 
This year, things look a little worse. The senior class is divided between computer screens and has undergone heavy waves of quarantines. And many of the fun senior events face heavy modification or even cancellation. Luckily, seniors could still paint parking spots (even if they had to wait a few months) and graduation is still expected to be held at the Maxwell C. King Center. 
But other events seem to be disappearing off the table of possibilities. Administration is working to give the Class of 2021 a senior year to remember, but it's proving difficult to get events approved by the District. 
In many ways, West Shore benefits from being a junior/senior high school. From seventh grade onward, students excitedly await their senior year where they too can bask in the excitement of surviving high school. But this year the goal became surviving a pandemic. 
The Class of 2021 is probably sick of hearing "pandemic" and "COVID-19" dropped on the dime. Most people are. And at this point, telling others to be "optimistic" or "hopeful" leaves a sour taste in the mouth. Seniors are tired of trying to "look on the bright side." They were supposed to go out with a bang. Instead, they get a modified version of what – for six years – they planned to be a memorable end to their West Shore days. And it will be memorable – just not in the ways the Class of 2021 dreamed of.