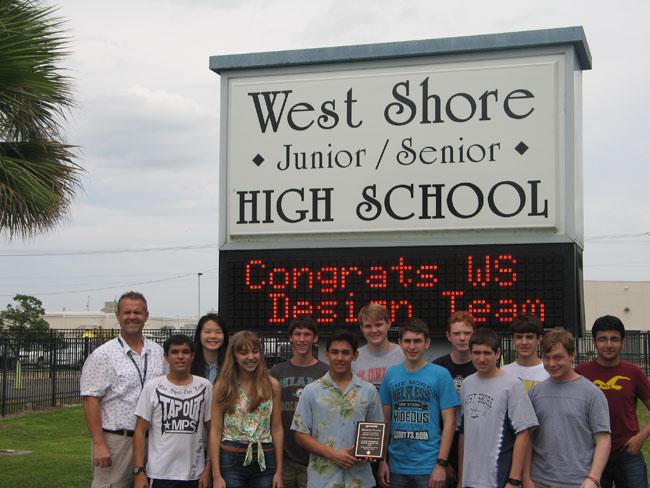 Nick Baker
Two West Shore teams recently competed in the Harris Design Challenge Computer Science Competition, winning first and second place. The challenge was to create a computer app that can take measurements, such as distance and angle, as well as compute equations from the measurements, and to communicate with the dispatcher for things like receiving directions and answering questions. Two awards were given, one for the actual competition, which is based on time to complete and accuracy of answers in which all teams competed. The other part was a competition among the top nine presentations made in front of top Harris executives.
Team MILC consisted of junior Caleb Bryant and seniors Ian Chan, Lexie Krehbiel, and Matthew Booe. Team Wildcat included sophomores Anton Samilan, A.J. Desantis and Mohammad Ahmed and juniors Eric Billhartz, Alex Heuser, Chris Peterson, Alex Autenrieb and Rachel Ho.
Team MILC won first place in both the competition and presentation. Team Wildcat, which did not participate in the presentation, placed second in the competition.
Booe said he enjoyed the event's problem-solving challenges and looking at other students' work.
"The best part was the actual competition, we had to problem solve several times which was cool," Booe said. "I also enjoyed seeing how other people's apps worked."
AP Computer Science teacher Donald Gornto said he liked how the contest allowed students to experience computer engineering.
"I think the competition let the students see how computer engineers work and use computers applications to solve real problems," Gornto said. "I hoped it motivated a lot of students to pursue computer science as a career."
Booe added that he was surprised his team won.
"I was really surprised, there were several very good presentations and though we [Team MILC] finished first, we did send one incorrect message," Booe said. "I actually expected Team Wildcat to win that."