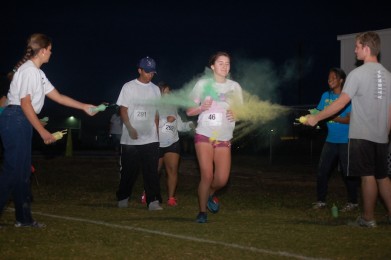 Lindsay Gorham
The first Wildcat 5k Colorful Run/Walk hosted Nov. 15, went well according to the students who attended the race.
"I think the color run was a great, fun event for school to have," junior Alicia Ortiz said. "It was my first color run ever and going through the color stations were the best. I hope they do it again next year."
Having some of the proceeds of the color run benefit the American Heart Association made the run much more meaningful according for sophomore Megan Ward.
"It was a great experience and lots of fun," Ward said. "It was great to see our school and community come together to support a great cause and a beloved member of the West Shore family, [former Assistant Principal Jim] Melia.
Making the run in honor of Jim Melia motivated students to participate in the race, according to freshman Hope Dougherty.
"It was exciting that it was our first 5k," Dougherty said. "Especially because it was in remembrance of Mr.Melia. I definitely plan on going next year, so I hope they have it."