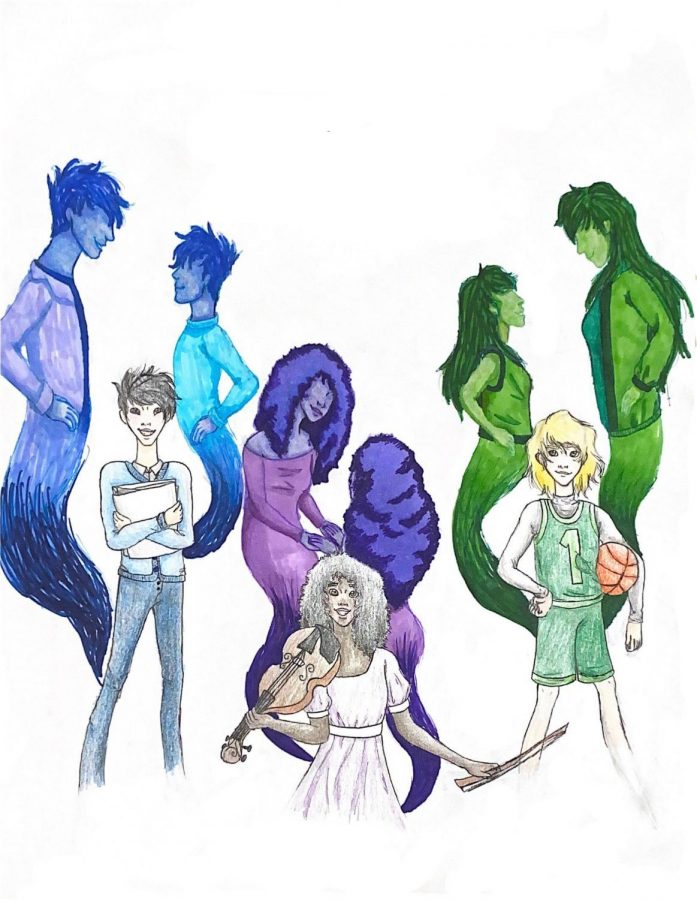 Illustration / Haley Anderson
Senior year of high school is different for everyone. Some choose to sleep through it while others decide to load up on rigorous courses. While the current senior class's experience was abnormal due to the pandemic, there will be similarities the junior class can expect to endure.
"The junior class should be excited for their senior year because it is such a monumental year," said Allison Breidenbach, who has committed to the University of South Florida. "You're applying for college, becoming an adult and getting ready to enter the real world. As stressful as it will be doing senior project and waiting for college decisions, make sure you enjoy the year and make as many memories as possible."
Upcoming months for juniors will be dedicated to college-oriented preparations. Universities begin accepting applications during the late summer each year. Some seniors, like Asher Dorfman, who committed to USF, said the process of completing college applications won't feel as stressful with a little bit of organization.
"Save the headache and get your college applications in ASAP," Dorfman said. "You'll thank yourself in the end because you're not scrambling to finish prerequisites or trying to find documents. You'll feel that weight lift off your shoulders the second you hit submit. And it's a rush of euphoria getting that first acceptance letter."
Most U.S. colleges require applicants to write a short essay about themselves or about a topic of their choosing, as part of the application process. Sean Regan, who committed to the University of Florida, said it is important to write in a way that will create lasting impressions on the admissions officers who read the essays.
"By getting a bunch of people, like parents and friends, to review your college essay and help correct it, you can bring your college essay to the next level," Regan said. "Since college admissions have to read thousands of essays, write about something personal and try to make it stand out from the crowd. Don't write about something that everyone experiences; do it about something that is specific to you and has impacted you."
The term senioritis is often used to refer to a senior's decrease in motivation and performance in school. Joshua Lopez said juniors should come prepared for these challenges.
"Senioritis is a real thing," Lopez said. "You'll feel like you have lots of work. You'll feel anxious. You'll feel tired. And the constant feeling of laziness is there. But my biggest takeaway from this year: don't get lazy, and finish strong. Keep your head high and your hands low for completing your work. Nothing is more important than finishing off high school successfully and fulfilled."
West Shore requires students to complete a project during their senior year that challenges them to demonstrate creativity. Vaughn Addington, who committed to USF, said the senior project is a chance for students to venture out of their comfort zone.
"Senior project can either be a relatively fun experience or a very stressful one, depending on how much you procrastinate on your work," Addington said. "Come into the class with an idea of what you want your project to be. Make it something you're personally interested in. Complete the assignments as they are given and don't let them build up. But at the same time, this is your last year in high school. Don't get too caught up in school that you don't enjoy your year. Leave time in your schedule to also do things that you want to do."
For many seniors, this will be their sixth and final year as a Wildcat. Mackenzie Kologlu, who committed to Colorado State University, said this final school year will certainly be memorable.
"The overall atmosphere of being a senior just feels amazing," Kologlu said. "You're at the top of the food chain and you've earned the power to refer to every other grade as 'the tiny ones' — even if they are actually taller than you. [Senior year] is definitely a one-of-a-kind experience and I wish you the best of luck." [My] only advice is: Own it."
Taqwa Naas, who has committed to UF, said the juniors should try to enjoy their senior year no matter what occurs.
"Whatever the situation is, you will turn out to be fine one way or another, even though it may seem like there's no end to the stress and anxiety," Naas said. "Prepare yourselves to go through a rollercoaster of emotions — dread, happiness, relief. It may look and feel dreadful but the result of your efforts in senior year will make your high school career worthwhile. It will feel like it was over in the blink of an eye."