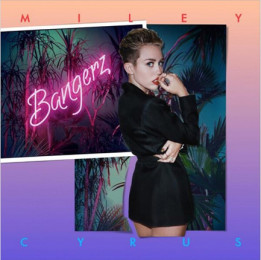 Miley Cyrus. I'm not going to bother describing her to you. You already know who she is. She's been constantly seizing the media's interest with her performance at the VMAs and with her wacky music videos. Cyrus has been using all this attention to build up her album "Bangerz," a symbol of her supposed triumph over her former Disney persona, "Hannah Montana," and of her embrace of sexuality and an "adult"-like don't-care attitude. But as much as Miley wants to appear all grown up, this album has an identity crisis, not knowing if it's hip-hop, R&B, pop or even country. Miley seems confused, and "Bangerz" makes it apparent.
"Adore You" is a surprising opening to the album. After hearing the first two singles, I'd expected an album full of sexually provocative hip-hop influenced pop; "Adore You" is an emotional pop ballad all about Miley's love. Simply written, the song describes how "you and me were meant to be in holy matrimony" (weird considering she and ex-fiancé Liam Hemsworth called off their engagement last month). Miley's voice sounds good, supported well by the strings and drums in the background. But the song is too long, especially for such a slow song; "Adore You" lasts almost 5 minutes, more than half of which is the chorus repeated over and over.
Released June 3, the album's first single "We Can't Stop" marks the beginning of the controversy surrounding Miley. "We Can't Stop" was one of the more memorable songs of the summer, utilizing a catchy beat and melody. In this party anthem, Miley tells listeners she'll do whatever she wants because "this is our house." Despite describing casual drug use and strip-club dancing, Miley says she should "forget the haters" because "only God can judge ya." Miley sounds fine, but her performance is really nothing special. Any female pop artist could have sung this song, and it still would have been popular. While "We Can't Stop" is catchy and I'll keep it on my iPod, it's an example of a song with a reputation greater than it's value.
"SMS (Bangerz)," featuring Britney Spears, is one of the weirder songs on the album. The song is upbeat, but that seems to be one of the few positives of the song. The lyrics are outrageous, and many don't make any sense; Miley says she "keeps a man" using "a battery pack…" I can't imagine what that means. She brags how she doesn't "need milli's [millions] when I got Billy on the speed dial." Sure, why try to successful and make something of yourself when you can just exploit your father's wealth? Miley's lyrics can be quite disturbing. And if you were wondering, SMS apparently stands for "Strut my stuff," which a computer-like voice repeats over and over and over again (sometimes for 30 agonizing seconds at a time). Britney's contribution is disappointing. Miley makes a song with The Britney Spears but keeps her part way too short. Her lyrics are boring and are delivered in a tone even more monotonous than usual Britney. Though some of Miley's rapping can be somewhat impressive, "SMS" is a miss. But I'll probably be saying "Strut my stuff" for a while.
Miley has said "Bangerz" was influenced by Southern hip-hop, but "4×4," featuring rapper Nelly, sounds more like a country square dance. In contrast, the lyrics are gritty and sound odd surrounded by Southern instruments including the accordion. Miley feels the need to tell listeners she's "a female rebel," which I'm sure most of us already knew after seeing the VMAs. She says she'll "do whatever to get [her man] his bail" and she's "driving so fast" to get it that she's "'bout to p*** on myself." How classy. Like the rest of the album, "4×4" is too repetitive with its spoken "round and round and away we go" over and over. The rest of the vocals are strong; Miley's twang is put to good use. Nelly is fine but doesn't add anything to the song. What I don't get is why Miley would make such a country-like song after she spent so much energy showing us how she's changed. She's not Hannah Montana anymore, so why is she making such a contradicting song? Though vocally strong, "4×4" is step back.
Released Sep. 13, the second single "Wrecking Ball" is one of the stronger songs on the album. A pop-ballad, "Wrecking Ball" is Miley's first No. 1 single on the Hot 100. Despite a weak metaphor (a wrecking ball, really?) well-written lyrics describe a broken, emotionally-destructive relationship, supposedly Miley's with Hemsworth. Miley sings how "all I wanted was to break your walls" but "all you ever did was wreck me." Miley's voice is at its best, quiet when it should be quiet and booming when it should be booming. The most memorable part is the bridge; where her voice is so shockingly emotional, I was taken aback the first time I listened to the song. A well-performed song largely driven by Miley's emotions, "Wrecking Ball" is one of the strongest on the album.
"Love Money Party," featuring Big Sean, is one of the few songs where Miley and hip-hop sound good together. With a weird, dark, instrumental, the song shows that Miley can rap well enough. The lyrics can be quite meaningless, but I think it's intentional considering how deep other lyrics are. She says that "Party ain't nothing but a party when you party every day. It ain't nothing but a party," which basically means "when you party, it's a party." Not very deep. But other times, she gets personal describing how she's "been through heartbreaks" too "much for anybody with a human heart to take." Big Sean is big on being featured in other artists' songs, and in my opinion, he's good at it. His part, though a bit uncreative, is impressive. Not a masterpiece, but overall "Love Money Party" shows that Miley's move to hip-hop is possible.
"#GETITRIGHT" is a catchy song and one of the few undeniably happy ones on the album. Though it sounds very similar to Robin Thicke's "Blurred Lines (both were produced by Pharrell Williams), the whistle and beat are too catchy to ignore. The lyrics are all about sex. All about sex. Of course. The new Miley can't have just a simple, happy song. But despite that, "#GETITRIGHT" is fun, especially surrounded by album's heavier songs, so I'm appreciative for a song that makes me want to dance. But I hate the hashtag. There should never be a hashtag in a song title.
Miley has changed. What's she's changed into though, I don't think she knows. "Bangerz" is a hodgepodge of different genres, with lyrics so rebellious they can seem forced. Most of the songs are an enjoyable listen, but the album as a whole is too muddled to be a make sense. Like most young adults, Miley Cyrus is rebelling, trying to grow into her new self and show the world. And "Bangerz" is the confused product.