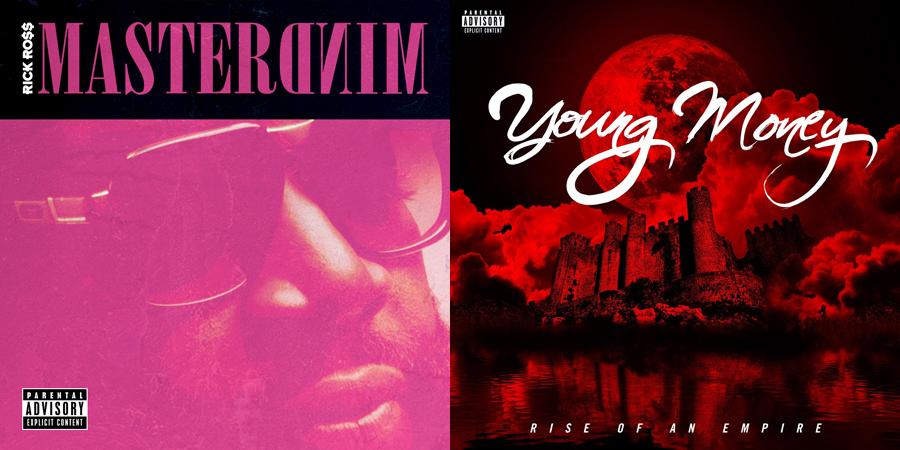 When I was at FSU back in July, I remember going to the bathroom after a mysterious allergy attack. While I was on my way to figure out its cause I saw a large, fat shirtless man walking the halls carrying a suit. I didn't ask who it was, but I'm pretty sure it was Rick Ross, because otherwise that would be just weird.
Rick Ross has been in some hot water recently. If you don't know, Ross guested on "U.O.E.N.O," and dropped a line that not only bragged about date rape – and in such a way that could not be defended in the context of the gangster persona (i.e., violence is undertaken against others, but the genre makes it clear it's a give-and-take among individuals perfectly capable of offensive and defensive capacities) – but didn't even seem to consider it date rape (bizarre – or even worse – if you realize he was a correction's officer before going famous). The outcry was swift and harsh, and it nearly cost him his Reebok deal. Given that background – and the fact that I'm not crazy about Ross, either – means this album's going to have to do a lot of work if it's going to convince me to buy it. So let's break it down track by track.
Intro ("Mastermind"): Completely expendable.
"Rich Is Gangsta:"  The album proper starts with a banging soul instrumental done in No I.D.'s vein, which is for the best: Ross sticks to the script of "money, cash, women," and while the first verse isn't too bad, Ross' lyrics quickly slip into the half a bar structure structure heard on " YouKnowIGotIt" (not that he had that far to slide). Still, this wasn't too bad.
"Drug Dealer's Dream:" Now this sounds like the Rick Ross I was expecting – and no, that isn't a compliment. The beat here is next-door to generic, largely saved by the spider-synth pianos, and right next door, Roberts' lyrics only bother to step out for fresh air with the implication that hey, you know, maybe some drug dealers aren't having a total blast with selling white. Roberts' lyrics are apparently also under the impression that "dope boy" has enough street history behind it to not at all regret having tattooed on your jugular.
"Shots Fired" (skit): For once here's a skit that actually has a place on the album, largely for the same reasons that the intro to "Me Against the World" worked – it references a real incident (attempted shooting vs. shooting) in a thematically pleasing manner.
"Nobody" (feat. French Montana): Diddy's production skills are pretty much nominal, which is to say that his work consists entirely of ripping off other artists' music  wholesale without any creative reinterpretation whatsoever (to clarify – sampling can be, and usually is, used well, just not by him). In the interest of fairness, here it's in pursuit of a new take on Biggie's last song, "You're Nobody (Till Somebody Kills You)" – which, also in the interest of fairness, is about as sacrilegious a concept as French Montana sampling Raekwon's" Ice Cream." That being said, Ross' lyricism here is much stronger than expected, albeit mainly in the service of a B.I.G. imitation, and while it can't compete with the original, it does show us what Ross could accomplish with a greater attention towards lyrics. (Which is to say: Biggie, except bald and sporting a fake-looking beard). That said, it's not as good as the original (but of course), so do yourself a favor and buy Christopher Wallace's song first.
"The Devil Is A Lie" (feat. Jay-Z): 2013 was not a great year for Jay-Z. Mr. Carter started out the year strong with the "Don't Kill My Vibe" remix, and Magna Carta…Holy Grail literally went platinum immediately, but that hasn't aged well at all (looking back on it, it's more of a 6) and he seemed to lose 10 IQ points with each guest appearance. His verse here is reason for hope though, as he outshines Rick Ross much like he did last year – not that it's super-great, but still, pretty good. Add to that a banging soul sample, and you can see why this was the lead single.
"Mafia Music III" (feat. Sizzla and Mavado): Know that Kanye song "Runaway" that was the lead single/video for his album/short film My Beautiful Dark Twisted Fantasy? That same guy (Bink!) produced this song, a rather average reggae beat that's indistinguishable from island music. Again, the lyrics are nothing to write home about, and half the song is used by some guy named Mavado – but this is Rick Ross we're talking about, so that's not much of a loss.
"War Ready" (feat. Jeezy): I never heard any Jeezy songs on Florida radio during the mid-2000s for some reason – in fact my most recent exposure to him was Mariah Carey's "#beautiful" remix, so I can't tell you much about him. What I can tell you is that annihilates Rozay over a limp Mike Will Made-It beat  and a hook that would have been bearable if not done by a literal mouth-breather.
"What A Shame:" You know what? I don't hate this song. Sure, the lyrics aren't  great, but they don't reek, French Montana is relegated to hook duties (as even Dread Leonard Roberts recognizes he should never be let near the mic), the beat is both low-key and energetic and the song references Camp Lo's "Luchini" and the Wu-Tang without being insultingly bad.
"Supreme:" Neither is this song, for that matter: Scott Storch climbs out of oblivion to give Rick Ross a pretty good contemporary beat, and Ross for the record turn in an admirable performance.
"BLK & WHT:" You thought that hook was real clever, didn't you? And did you really think that the Trayvon Martin reference was necessary in light of the "I don't know what date rape is" controversy? Because you do know that these are probably going to overshadow what's actually a good song otherwise, right? (On a related note, who told you this beat was good?)
"Dope B. Skit": Completely useless, a fact not helped by this being 3 minutes long.
"In Vein" (feat. The Weeknd): Similar to other Weeknd songs, this song isn't a "romance" song so much as it is a sex-and-drugs song. Ross, meanwhile, manages to stay on point, but the depressing instrumental clashes with Ross' subject matter; in fact, chances are you won't remember what Ross was talking about, the bleakness is so overpowering – which is to say, this song's neither good or bad — it just exists. (Not to mention that The Weeknd productions are the new anti-"Yakety Saxes;" seriously, is Ross supposed to be bragging or wallowing?)
"Sanctified" (feat. Kanye West and Big Sean): Why bother using a soul sample if the rest of the beat is mindless trap music and the sample is immediately followed by a ridiculous hook? As a whole, though, see my notes on "BLK & WHT." (For the record, Big Sean's verse didn't  make the album, so he made it available for free download. It's worth checking out, although be advised that the "word" "realionaire" is used without any irony whatsoever).
"Walkin' on Air" (feat. Meek Mill): Pretty decent, and even clever sometimes, though the religious imagery doesn't make much sense. That's all I got.
"Thug Cry" (feat. Lil Wayne): A lot of the time (perhaps most of the time), gangsta rappers will have at least one song on the album meant to demonstrate that there's more to them than, well, money, drugs, and women — or at least that they have some range. "Thug Cry" is that song, and you know what? It's actually kind of great. Not only does "Thug Cry" sample the same source as "93 'Til Infinity" (Billy Cobham's "Heather"), but Rick Ross doesn't sound out of his depth here, and Lil Wayne — whose 2013 was worse than the senior Carter's, which even he acknowledges – drops a hot verse that makes me anticipate rather than dread Tha Carter V (especially since critics will actually serve as critics, and not like the glorified yes-men that they were in '08).
"Blessing In Disguise" (feat. Scarface and Z-Ro): I'm guessing the reason this is only a bonus track is because this also references George Zimmerman – though to be fair here it's less ambiguously used for the sake of condemnation, and Scarface's verse is really good, much like "I See A Man Die." Rick Ross does OK, but the sincerity of the lyrics, not to mention the great soul sample, help elevate the material.
"Paradise Lost:" See my notes on "Rich Is Gangsta," though this song trades in soul for a great tropical-jazz instrumental.
"You Know I Got It (Reprise):" I covered this song back in August when it appeared on Jay-Z's album. That album's aged much worse than I thought it would, and this song's went from "OK" to "horrible" with Jay's departure. Nothing much to add here, except that the clean version barely rhymes, and the new verses are as bad as the ones on the Jay-Z cut.
Young Money: Rise of an Empire
The "sharing your success" ethos applies to no musical style more than it does hip-hop. Whenever a rapper or rap group hits it big, chances are he'll bring his friends on their albums as guest rappers, perhaps form a group with them, and maybe secure record deals for them. If the rappers' posse is lucky, its members can become a superpower in their own right (the Wu-Tang Clan) or, if the relationship is more mentor/protege, they can even eclipse their mentor in popularity (Redman & EPMD, Nas & the Main Source, Jay-Z & Jaz-O). More likely, the would-be rap stars only get by on their friends' star power (DJ Premier & most of Year Round Records) or languish in obscurity (Pete Rock and InI). Young Money seems to split the difference — it has produced pop-music powerhouses Nicki Minaj & Drake (not to mention Lil Wayne's being a beneficiary of Cash Money's Hot Boyz), as well as minor star Tyga, but most of its label roster has failed to make it either commercially or critically. And given that recently Drake is the only one of the power trio (quartet, if you consider Tyga) who's still actually any good, it does not bode well for Young Money — especially since the disaster that was I Am Not a Human Being II. So the question is: Will Young Money's new album finally launch one or two careers? Will Lil Wayne's performances erase the memory of 2013 from listeners' ears? How many people will confuse this with the new 300 movie?
"We Alright" (Euro, Birdman and Lil Wayne): The first song on Rise of an Empire starts with a broken nursery rhyme tune mixed with that fuzzy bass distortion that's been used since the turn of the decade; they're both kind of clichéd elements in themselves, but it doesn't sound too bad here. The guy rapping on the beat, Euro, is someone I haven't even heard through Internet osmosis, but he sounds pretty good – hungry, and with a stronger eye on lyrics than most of the other crew. Then Birdman comes up and kills the momentum by, well, his mere presence, and Wayne's verse plateaus from "promising" to "average" rather quickly. Still, this verse is better than pretty much anything else he did last year (save that "Santa" line), so this wasn't bad.
"Trophies" (Drake): Hit-Boy originally sent this beat to Childish Gambino, but Glover didn't use it so he sent to Drake instead, and then this song didn't appear on Nothing Was the Same last year because he couldn't finish it in time. I can see why: Hit-Boy's trumpets are amped-up, but they never get proper percussion, and as a result the song eventually feels strangely hollow, as if Drake was rapping on a perpetual introduction. It doesn't help that the rapping sounds like it was done by two different people who are both not really saying anything. (This is Drake's only appearance on the album, by the way).
"Bang" (Lil Twist, Euro and Cory Gunz): This beat slams in every Southern rap cliché present during the past seven years, but that's not nearly the worst thing about this song. Lil Twist sounds like Lil Wayne as interpreted by a three-year-old girl – even Lil Wayne never sounded this shrill – and, more to the point, has a horrible verse: I have no idea who could have thought Twist had any skill to lose, but they were obviously paid to say it. The chorus – for those of you who've never spent any time on the Internet – uses the most ridiculously immature double entendre possible, and is a really terrible way to tie in the verses. Despite that, Twist's verse is overall too ridiculous to be offensive, which is more than can be said for Euro, whose variation on the theme, while technically more proficient, is indefensible for the same reasons that Rick Ross' rape line was — violence cannot be directed against someone who is not in some way shown to be capable of defense or offense, especially given the pettiness of the reason Euro gives. Lyrically the real star of the song is Cory Gunz, though his verse also crosses the line (to be fair though, this one's in the context of a robbery rather than her disbelief about his bank account. Not sure how that helps though). This song is reprehensible.
"Senile" (Tyga, Lil Wayne and Nicki Minaj): Wow. Just, wow. That last beat may have been played out, but the music on here is just straight-out horrible, being aggressively, skin-crawlingly moronic. And it's quite obvious that our guests feel the same, as not only does the hook sounds like something Tyga just made up on the spot, but only Lil Wayne bothers sounding like something other than a lobotomy patient (though admittedly Onika's verse isn't bad). And as for those critics who praise the production being "dark" and "futuristic:" No, it's not. (And if you actually like this beat rather than just taking what you can get: No one is ever required to listen to you ever again). "Scientifical Madness" is futuristic. Pete Rock's "Real Hip Hop" remix is futuristic. "Whatever Happened (The Birth)" is futuristic. Kendrick Lamar's "A.D.H.D." is futuristic. This song is just garbage, and anyone who says different either gave up on standards a long time ago or is a member of the Christgau/Rolling Stone rap-critics crowd. (Keep in mind I like Rolling Stone; it's just their rap reviews I can't stand). Glehh.
"Induction Speech" (Euro): It's a good thing that this instrumental is much better than the last two songs, even if the bassline gets too dark for a positive song such as this. I think Euro is like Big Sean with a better voice, as he's at his best when he's not adopting an ignorant persona; specifically, they share the enthusiasm over reaching wealth. That said, Euro isn't as good here as Sean, but he more than makes up for it with enthusiasm.
"One Time" (Lil Twist, Tyga and YG): Hey, anyone familiar with 1994's "Show and Prove," and how awkward it was to hear a 15-year-old Shyheim rap about sex while sounding like a 10-year-old? Well here it just sounds stupid when Lil Twist does it, as it makes Twist's pimpin' boasts seem all that stupider. Tyga's decent here, though not good enough to erase the taste of "thinking the only reason conscious rappers don't like him is because he's 'winning'." And YG is just embarrassing (the admitting to being a gigolo at the end doesn't help).
"Hittin Like" (Shanell and Chanel West Coast): Well at least they don't have Paris Hilton on here. The bass isn't bad, although the "hey" throughout the song gets annoying really quick; as for the lyrics, they're a decent variant of the newer, more overtly sexual R&B crowd —at least until Chanel West Coast comes on, at which point things take a turn for the Fergalicious (and of course that's not a compliment) – made even worse by the fact that it seems intentionally horrible in a song that doesn't merit such derision. Besides being completely pointless, it completely takes the listener out of the song to focus on "Hey, listeners! This record label sure is terrible!", and retroactively makes Shanell's lyrics sound that much stupider.
"Lookin A.." (Nicki Minaj): Well, besides the obvious problem with juxtaposing Malcolm X and the N-word (that, and the fact that it evokes KRS-One's By All Means Necessary, this song has one major problem that keeps it from being as good as everyone says it is. Not the production (which samples DJ darling "The Champ"), or the singing by Detail (which is dark & moody in the context of a rap production, rather than terrible and annoying anywhere else), but the rapping style. The last two words of the title are repeated ad nauseum throughout the song, and while the rest of the lyrics aren't bad, the song as a whole reminds me too much of the Lonely Island's "Like a Boss," and trying to shoehorn the partial title drop comes off as more awkward than interesting. I can see the appeal, but I just can't get into this song.
"Fresher Than Ever" (Gudda Gudda, Jae Millz, Flow, Mack Maine and Birdman): Hey, remember "Bedrock" from four years ago, that terrible song with a castrato hook-singer, a prehistoric pick-up line as a hook, and who saw only two members graduate from baggage-handler status? If not, here's all you need to know about the song:
"And I got her, [expletive]…#grocerybag
That particular gem is spat out by one Carl Lilly, aka Gudda Gudda (?), the Cappadonna of Young Money if you will (an analogy which is almost laughably imprecise, but which I will readily use because it's a convenient shorthand for the weakest links in their respective rap groups, and also because Wu-Tang is so much better than Young Money anyway). Anyway, I figured that his mere presence would drag the rest of the song into the, ahem, "gudda gudda," but the beat sounds pretty good (a lot like "Forever," yeah, but still), and so far his verse doesn't sound too bad, dealing with "rising to the top." Maybe Lilly will surprise me — or not. 
You see, Gudda Gudda is an exemplar of everything wrong with the Young Money rapping style. Now, the Young Money group didn't invent #HashtagRapping, but they did more than anyone else to popularize it – and that was largely because it's the easiest rhyme style to use while freestyling, as is Lil Wayne's modus operandi. But that's also the reason why in Wayne's hands freestyling becomes crosses over from artistic choice to flaw. To be a successful freestyle rapper, you have to be able to extemporize quickly and skillfully on a consistent basis, and that more than anything requires an ability to focus. Lil Wayne does best when he's got a clear idea for a song (as "Dr. Carter," one of his best songs can attest), but – and I'm saying this as a critic, not a naysayer – he's not smart enough to pull it off as often as B.I.G. or Jay-Z, which is why he both tends to repeat lines and doesn't speed-rap often.
So Wayne adopts punchline-rapping as a signature style, which is easier to use for rapping on the go. But there are four major problems with this. First, punchlines (especially puns) are inherently risky, because while one to four can be lyrical shots in the arm, using much more than that — or even one to four in a short time — generally becomes painful. Only an expert lyricist can reliably concoct a successful string of punchlines, and the fine line between the sublime and the ridiculous becomes atom-width in this regard.
Changing metaphors, the second major problem is that humor, along with sex and postmodernism, falls under what can be called the "half-a-kitten principle," a term explained by the authors of How NOT to Write a Novel: Giving the listener a punchline that is only half-good is like giving them half a kitten — it is not half as good as a truly humorous joke, it is a mess. With humor, jokes that don't work are not just unfunny; they are drains on the audiences supply of good will that disincline the audience to listen to the next joke, and with each failed punchline in the first and second verses, the audience is much less likely to respond to the joke in the third verse that works.
Moreover, because of #Rapping's structure, which by and large explains the joke, this means that it can usually convey only the more ham-fisted metaphors – especially in conjunction with freestyling – and can't generally support song-length metaphors. And finally, #Rapping's omission of articles generally comes off as not bothering with metaphors or even proper similes, so it often ends up dragging good punchlines down to its level.
Those are the major problems with the Young Money rapping style, and these flaws are why almost no one used it last year seriously (well, Lil Wayne did, but his whole year was terrible). But at the very least most #raps have a clear logic behind their similes crude metaphors. And this is why Carl Lilly is the back-end of Young Money: In neither of the quotes above is the comparison witty or particularly logical. Sure, the metaphors can possibly apply, but they're not even good fits for the things being compared; the subjects are half-brained and shoehorned into a weak metaphor based on what Lilly remembers rhymes with whatever he just said.
Wow, that was long. The rest of the verse is typically bad Lilly, where Gudda Gudda takes a page from Rick Ross and uses the n-bomb to rhyme each line (although to his credit the lines rhyme regardless). Speaking of which, Jae Millz sounds exactly like Rozay, though admittedly more clever than Ross' usual fare; the guy who follows him, Flow, is nothing special, although he sounds like a Southern, more nasal version of Big L vocally. Partially confirming what I said earlier, Mac Maine's turn is more or less a collection of #rapping, & is wildly hit and miss, from the good ("[Expletive] a Twitter, in real life no one follows ya"), the bad (Mack does know that Captain Phillips isn't a pirate, right?), and the weird ("Hungry Hungry Hippo?" Just, …?). Overall, while it has some promise, the quality's too erratic to leave an impression.
"Back It Up" (Lil Twist and Tyga): Not this "Senile" refuse again. Lil Twist just sounds more horrible the more you hear him, and he actually speed raps on here.  It's as if Kendrick Lamar got clubbed in the head while rapping in alien-voice and got stuck . And the subject matter – I know that this is supposed to be Young Money's Lil Jon song, but while it is possible to make such a song enjoyable and widely appealing, here it just sounds extremely gross. Tyga does slightly better, but he's so disgusting you'll turn off this festering, gangrenous abscess of the id halfway through his verse (that is, if you get that far).
"The Moment" (Lil Wayne): You can tell Wayne was just woken up to record this song, because the intro drags on for too long, and it takes a while for Wayne to get on track. (On a related note, his voice wasn't nearly as shrill or fragile on Tha Carter II. What, did he accidentally ingest battery acid sometime between '05 & '08?) He really picks up steam in the second half of the first verse and drops a pretty good second verse, but is obviously winded by that effort, and the third verse runs much the same as the first. Still, this is actually pretty good (well, other than the hook), and given what else the album's inflicted on us, it's the best song on here so far. It's not really essential listening, but I wouldn't turn it off if it came on the radio.
"You Already Know" (PJ Morton, Gudda Gudda, Mack Maine and Jae Millz): No, we don't already know that there "ain't nobody better," largely because it isn't true, and because you're more or less interchangeable (just exactly how is this "PJ Morton" any different than every other island singer?) Anyway, Gudda Gudda is poor as expected, and chances are you'll only remember Mack Maine's verse, as Rick Ross II is completely forgettable.
"Catch Me at the Light" (Shanell and Yo Gotti): I like how the twangs evident in "Senile" and "Back It Up" are more percussive and are relegated to musical backup. I also like how this song flips the "guys and their cars" archetype so that it's the woman courting a man with her car. What I don't like is Yo Gotti, who sounds like he's barely speaking English with a slur, which not only kills the momentum and replay value, but turns them into a fine pink mist. Oh well.
"Video Model" (Christina Milian and Lil Wayne): At first this song seems like it's going to be a particularly-good Top 40 hit about nightclubs, and you figure it's still not going too bad even when she mentions twerking. Then the beat switches to trashy ATL fare for the hook, and thus goes most of the hope for this song being good (it doesn't help that Milian doesn't seem aware how ridiculous she sounds singing about twerking). The beat switch should work better for Lil Wayne — note that I say "work better," and not "be any good" — but Wayne's performance here is just horrible.
"Good Day" (Tyga, Meek Mill and Lil Wayne): The twangs from "Catch Me" are in full effect, and boy do they sound idiotic. Tyga still doesn't give reason as to why "haters" would only do so out of jealousy, but it's nice to see him name-check RZA & the Gravediggaz (though the way he says it only reminds the lister that there are better things he could be listening to). Lil Wayne's verse is OK, but his voice pretty much ruins the effect, and while Meek Mill has always been pretty good ("be good or be good about it"), his performance here serves little purpose other than to occupy space. And thus the deluxe album ends without having done anything other than waste four extra dollars.
THE FINAL WORD: Lincoln once said, "People who like this sort of thing will find this the sort of thing they like." For those people, Rick Ross' album is the better listen. While some of the songs range from average to terrible, Rick Ross has for the most part stepped his game up, and as a result most of the album actually doesn't sound that bad. That said, the deluxe version isn't worth the money (and only hardcore fans should buy the super deluxe with eight videos). Overall, this album is surprisingly good, both in entertainment value and lyricism, and for that I give the regular album a 7.5 for the gangster subgenre, strictly on the entertainment merits (decent listen, probably worth buying), dropping down to a 7 for the deluxe and a 6.75 for general consumption (your call, though leaning more towards a recommendation).That said, I can't recommend that you actually buy this, largely because of the "U.O.E.N.O." incident, and because Ross hasn't fully learned the lesson from last year.
Young Money gets no such luck, however, earning a 4.5 out of 10. Some of the tracks are actually pretty good, Euro and Nicki Minaj in particular being the most consistent, but for the most part the album just doesn't work. Most of the tracks  would be decent if unspectacular, but often at least one thing's bad enough to kneecap them into mediocrity: Mack Maine can just keep above the stagnancy of the posse tracks, and Drake & Nicki's solos are strangely weak. The ultimate deal-breaker, though, is that what is bad on here is horrible: Lil Twist is trash, as is every song he's on; the production efforts on "Senile," "Back It Up," and "Good Day" are straight-up moronic; "Video Model" collapses under its own stupidity; and the rap spots on Shanell's songs sound more like spoofs that forgot they weren't actually supposed to suck. Buy the songs below, and only get the full album if you're planning to microwave it and post it on YouTube.
BEST TRACKS (Mastermind): "Rich Is Gangsta" and "Paradise Lost" (instrumentals only), "Nobody" (in conjunction with the original version)," "The Devil Is a Lie" (instrumental preferred), "Supreme," "War Ready" (Jeezy's verse only), "Thug Cry" (especially in conjunction with "93 Til Infinity), "Blessing in Disguise"
Rise of an Empire: "We Alright" (largely Euro's verse)," "Senile" (Nicki Minaj's a capella only – i.e., don't bother buying it),  "Induction Speech," "The Moment"