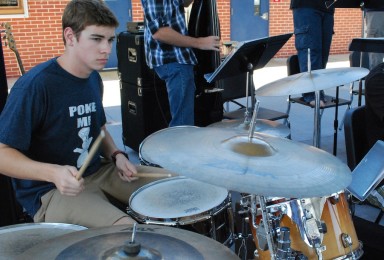 Ashley Sanchez
Various styles of music ranging from Latin, rock, jazz and funk will be performed by the jazz band on the patio at Festivus on Friday, Nov. 15. Audiences attending Festivus can anticipate a fun, upbeat performance.
"[The audience] can expect songs that have good beats in them, amazing sounds from the saxophone section and trumpet section, and they might get up and dance," said senior Richard Klenotich, who plays bass trombone. "It will raise awareness of our jazz band, and possibly raise money."
Drummer Patrick Furino is looking forward to the event.
"Last year there was a lot of people there," the senior said. "We played, we had a lot of fun, and people donated to us, which is really beneficial and great. I feel good [about performing] because I enjoy playing in front of people.  Every time you play you learn new stuff. The only thing I'm concerned about is it's outside, so the acoustics aren't fantastic, but I think it'll be good."
Furino also expects performing at Festivus to promote the jazz band.
"I think that most of the people that go there don't go for jazz band, so when they see jazz band they will enjoy it and come to future jazz band events," Furino said. "Before I was in jazz band I saw jazz band play and I was like, 'Wow, they're good, and I want to see more', and I always came to stuff, and now I play in jazz band."
Jazz band director Carol Allen explained how the band practices leading up to the performance, and what she hopes for jazz band in the near future.
"We start out with three pieces, then we add another one, and we just keep adding more songs," Allen said. "[My goal for the jazz band] is to learn as many songs as we can and get about an hour and a half of music."
Allen feels confident about the success of the band playing at Festivus.
"I don't think anything is standing in their way because everybody in that class really works hard and they practice when they need to practice and they're real serious about learning how to be better and better," she said.
By Kaylee Willner