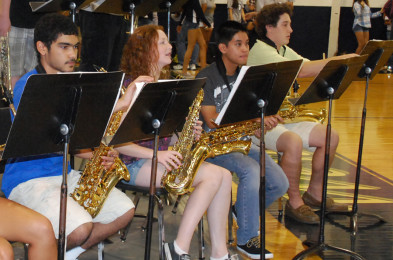 Shilo Toland
Each year, thousands of band students audition to be a part of All-County, a music program that allows select students to play at the King Center. The audition process isn't easy; students have to play one prepared piece of music, their 12 scales and the chromatic scale.
"There's going to be two judges in the room," band director Carol Allen said. "Usually they're band directors and sometimes they're musicians from the district. The students go in and they play, but they're not allowed to talk to the judges, and the judges are behind a screen where they can't see the student and the students can't see them, so it's real anonymous, and they try to do it to make it fair so no one is biased."
Junior Kevin Baylen has participated in the event before, and plans on auditioning again on Thursday.
"I've tried out every year," Baylen said. "I did it in eighth grade, but that's the only time I've made it. I usually get really nervous, but I always try to control my nerves and just think about the music. [I hope] to get better at playing the flute, as well as getting practice performing for somebody."
Baylen explained how he prepared for the upcoming audition.
"Since I've tried out so many times, I don't need to practice my scales anymore because you have to play your scales for every audition," Baylen said. "The exercise that the flutes are playing is the same one that was for the All-State audition, so I don't really have to practice that either, but I still practice it so I don't forget how to play it. I got the exercise about a month ago. I basically try to play it once every day."
Even though the task sounds daunting, Allen said students learn valuable lessons whether or not they make the band.
"It's really and honor for kids to make it," she said. "I think it's good for people because it kind of puts them in a situation that's a little bit uncomfortable, and that's how you build character. I think it's fabulous. I think it's a good experience whether they make the band or not. And then if you  make it, it's really awesome because they do a performance in the King Center, and they always have really great guest clinicians come in and work with the bands, both middle school and high school. The concert is always great. You just can't believe that that's high school and middle school kids playing in the band because it's so good."