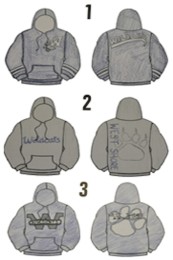 Students will vote for the finalists in first West Shore hoodie contest sponsored by the art department and PTA  on Monday during homeroom.
"I walked in thinking there were only going to be eight or so but there were actually 110 [original entries]," Senior Class President and contest judge Jenna Winter said. "Some of them were so good and it was really surprising to see that West Shore holds so many great artists."
Judges were School Resource Officer Chuck Landmesser, Assistant Principal Jackie Ingratta, juniors Michelle Maldonado and Erin Sheridan and Winter.
All students were invited to create their own hoodie designs and a panel made up of faculty, one PTA member and students choose the three finalists from more than 100 entries. The first-place winner will receive $100, second place will receive $50 and third place $25.
"It was super-hard because all of them either had the same aspects or completely different and it was hard to pick ones that students would actually like and buy," Winter said.
Students will have the opportunity to purchase the winning hoodie later in the year.