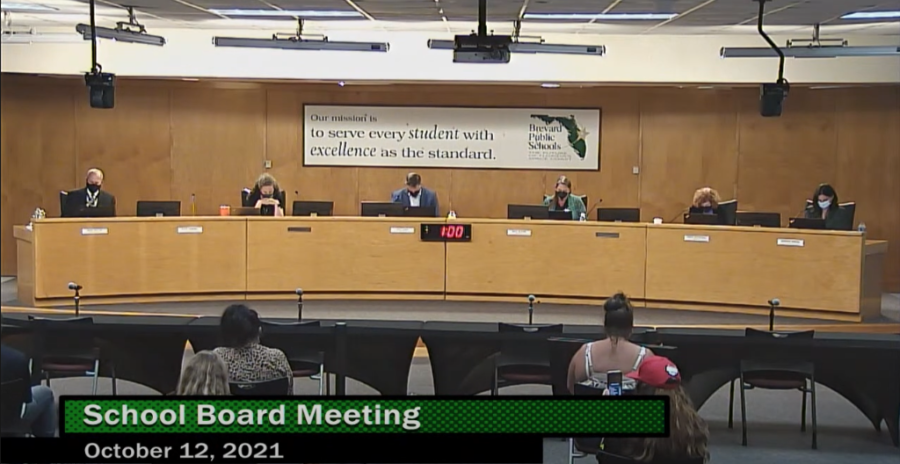 Brevard Public Schools
The school board decided with a 3-2 vote last week that if COVID-19 cases drop to 50 cases per 100,000 in the community, then a mask opt-out would be put in place. After an hour of discussion and the public escorted out of the building, school board members reached an agreement.
"You are at a high spread rate until you get to 50," school board member Misty Belford said. "At the time we reach 50 per 100,000 in a community [Superintendent Mark] Mullin could lift the mask mandate." 
This change has teachers and students hoping for an end to the coronavirus restrictions and mandates.
"I think that's fair because I think if community transmission is low than we will be less likely to be spreading it at school" Science teacher Angela Feldbush said. "I am in favor of the parent opt out because i think having the parent make the decision mean that if the parent wants the kid to wear a mask then they should"
Teachers and faculties on the other hand will continue to wear masks even if cases drop below the 50 per 100 thousand threshold.
"I am in favor of the most mask wearing possible" Feldbush said "I think the teachers are most interested in keeping the students safe".  
The next meeting will be Oct. 29 and the mask mandate will expire unless extended by the school board.  "Numbers have been dropping precipitously, so I imagine they are going to continue to fall this week," School Board member Katye Campbell said. 
By Léo Esbelin