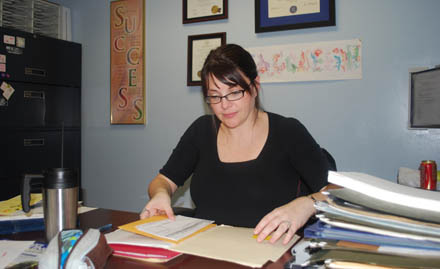 When Edgewood Jr./Sr. High School opened its doors last week, a new face was on hand to greet students. West Shore's former Assistant Principal Jackie Ingratta assumed the role of principal at Edgewood Jr/Sr High School during the summer.
"Although she is moving to the dark side, the force is strong with her and — given her training — she is destined to resurrect the rebellion and restore order in the galaxy,"  West Shore Principal Rick Fleming said.
After moving to Florida from Canada in 2003, Ingratta taught at Southwest Middle School until 2007. She graduated from Nova Southeastern University in 2006, and began working at West Shore the following year until 2009 when schools of choice were forced to eliminate their dean positions. After Ingratta left, she worked as a dean at Clearlake Middle School in Cocoa. She returned to West Shore as assistant principal for curriculum in 2011 and then took a position at the school board offices in 2014.
"I think Mrs. Ingratta is a good change for the school climate at Edgewood," said Assistant Principal Lisa Kratz, who used to work at Edgewood. "She's also a perfect edition to support the faculty and staff."
Ingratta replaces Dr. Kenneth Winn, who retired last spring.
"Edgewood has been up and coming for years now, and Jackie is poised to take them to the next level," Fleming said. "Please join me in congratulating her on this tremendous honor and new level of professional responsibility."
By Hiba Mirza