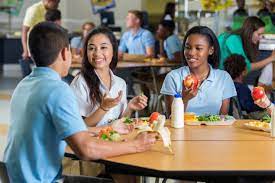 Incoming seventh-graders are not the only ones on campus experiencing Power Hour for the first time. The school moved to block scheduling last year in to mitigate pandemic stress and Power Hour had to be jettisoned to accommodate that change.
Under that plan, eighth-grader Clara K. had become used to having one or two friends in her lunch group. But now she is able to be with all of her friends.
"I personally like Power Hour better because not only can you socialize with your friends more, but you can also talk to teachers if you wanted to instead of having to do it after school," she said. " I really didn't know anything other than block scheduling last year, but from last year to this year, it has improved a lot."
After six years of eating lunch in elementary school, seventh-grader Kirin R. said he has enjoyed the change and is looking forward to joining math and science organizations which hold their meetings during Power Hour.
"I'm excited for the clubs to start and that I have enough time to eat lunch," he said. " I think the lunch lines aren't too bad, and I am glad I can sit where I want to which is a lot different from my old school."
Editor's note: Brevard Public Schools policy prohibits the inclusion of middle-schoolers' last names on district-sponsored websites.