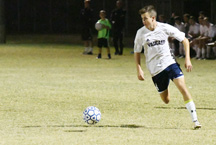 Beth Saunderson
Junior Dylan O'Brien's goal early in the game would have been enough for the victory, but junior Abe Murphy added two second-half goals on assists from sophomore Cameron Yeutter as the boys' varsity soccer team shut out Orlando Bishop Moore 3-0 in front of a home crowd in the Class 2A regional semifinal Saturday night.
"The game stayed at the scored 1-0 for a decent amount of time, so I started to get scared of losing the lead," Murphy said. "But then during the second half Cameron gave me two easy passes to score and help protect the win."
O'Brien has scored twice in the regional playoffs, and hopes to score another in the regional finals against The Villages Charter during the regional final at West Shore on Tuesday at 7 p.m.
"I think I've been doing good in these past few games for the team," O'Brien said. "I just hope I can keep providing the team with goals or chances to score during the next game."
Due to Florida High School Athletics Association regulations, tickets for Tuesday's game will cost $7.
By Chase Hester