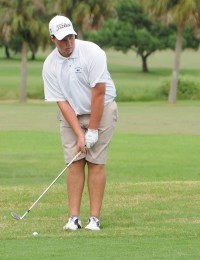 Dean Stewart
The boys' golf team placed second in a tri-match against Palm Bay High School and Melbourne High School on Monday, scoring 197 to Mel High's 169 and Palm Bay's 205 at Crane Creek Golf Course.
"The team played pretty well overall," said sophomore Richard Darnell, who scored a 38. "We certainly could have played better, but it was a good performance on our part."
The Wildcats appeared to play better as the match wore on.
"Our putting was extremely good," senior Cameron Loomis said. "We usually struggle with putting but every player seemed to have overcome that weakness during the match.